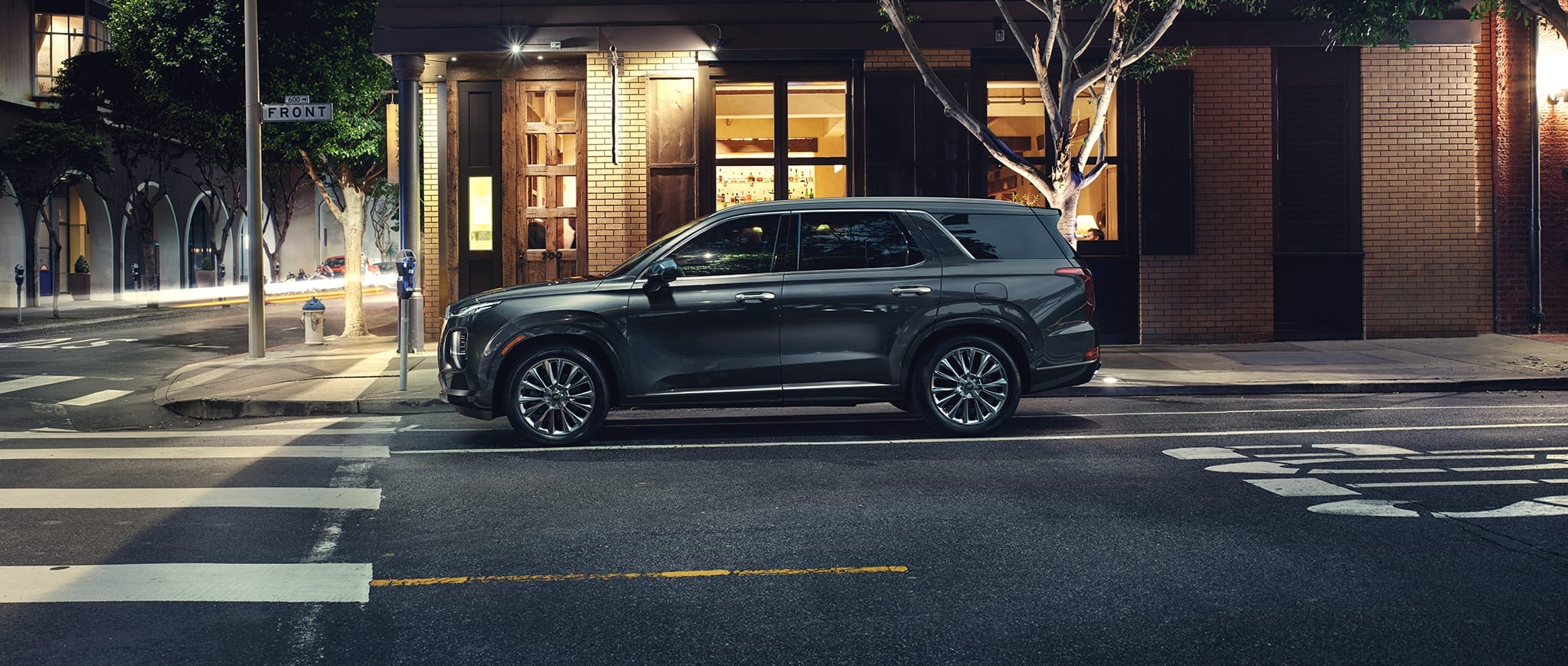 Introducing the all-new Hyundai Palisade

Hyundai's Flagship SUV
Continuing a tradition of innovative vehicles for modern families, the 2020 Palisade is the admiral in charge of Hyundai's lineup of top-performing SUVs. Equipped with three rows of seating, a premium cabin, and plenty of entertainment features, the Palisade is a premier contemporary SUV that is creating a buzz in the automotive industry.

Design
The first thing that catches the eye about the Palisade is its wide stance and distinctive styling. From a head-on point of view, the Palisade shows a handsome face that is characterized by a hexagonal front grille and fog lights that reside just below a pair of slim, modern headlamps. As Hyundai's largest SUV to date, the Palisade commands respect from onlookers while remaining nimble enough to feel light on its feet when navigating through crowded city streets.
Cabin & Technology
Designed with the family in mind, everyone is set up to ride comfortably thanks to the available Quilted Nappa Leather seats and USB charging ports in the second and third rows. Rear passengers can stay plugged in while communicating with the driver in the front of the car is seamless on account of the available in-car intercom. Drivers will enjoy a well-positioned infotainment screen that easily connects to smartphones through Apple CarPlay or Android Auto so you can stay connected on the go.

Performance
Powering the brand-new Palisade is a 291-horsepower 3.8-liter V6 engine with an 8-speed automatic transmission and 262 pound-feet of torque. The powertrain is ideal for a healthy mix between highway and city driving while available multiple drive modes will optimize the Palisade to handle difficult terrain with ease. Even though the Palisade is Hyundai's largest SUV, the flexible suspension system allows plenty of forgiveness over bumps and the lightweight steel frame make it feel light on its feet.
Safety
Designers put in hours of research to make the Palisade one of the safest SUVs on the road. Available features include: Safe Exit Assist, Rear Cross-Traffic-Collision-Avoidance Assist, and Ultrasonic Rear Occupant Alert with Blue Link notifications. Safety on the road is paramount but entering and exiting the vehicle while it is stationary is of equal importance which is why these features are made available. The Palisade is truly looking out for every member of the family, and drivers will enjoy peace of mind every time the Palisade is taken out for a drive.